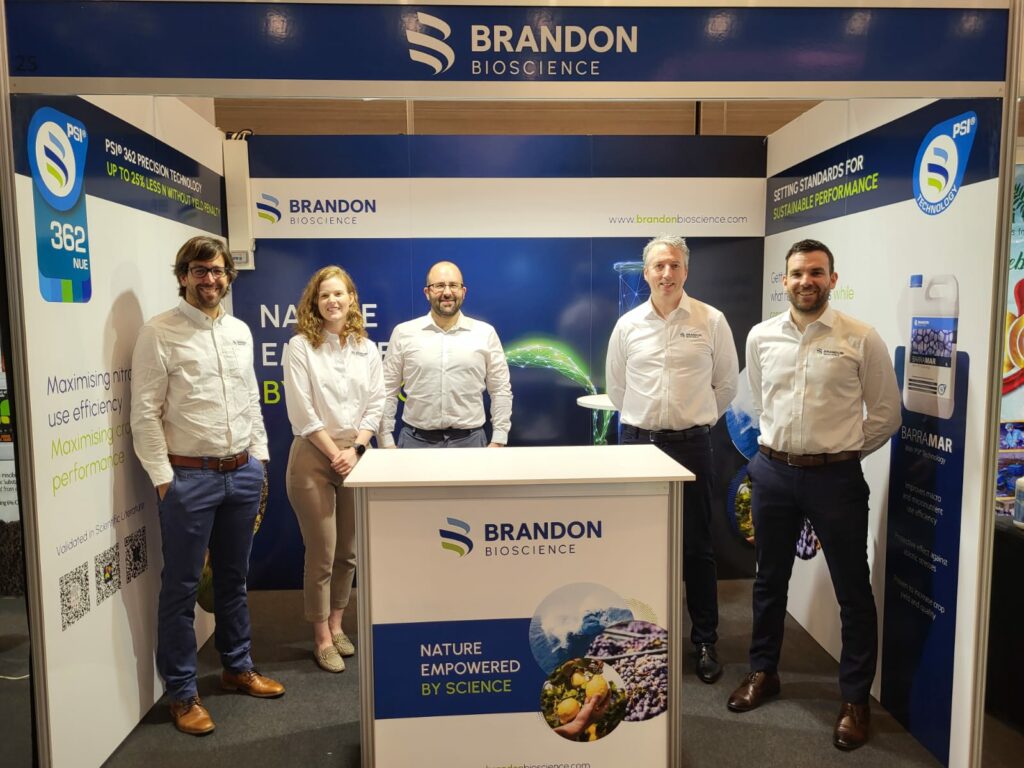 Last week, the New Ag International Annual conference took place in Barcelona, providing an opportunity for experts in our field to share their latest research and discuss the challenges and opportunities facing the agriculture industry. The theme of the conference was to drive product success by advancing scientific knowledge in plant nutrition and connecting with the fertilizer supply chain.  
Among those exhibiting was the Brandon Bioscience team. Held over 2 days, the team had the opportunity to meet with customers, potential buyers as well as peers from the wider industry. 
One of the highlights of the conference was Brandon Bioscience's Chief Technical Officer, Dr. Oscar Goñi's presentation on the effects of our alkaline Ascophyllum nodosum extract (ANE) biostimulant Barramar on micronutrient use efficiency and crop quality in wheat and grapevine.  
Micronutrients such as iron, zinc, manganese, boron, copper, and molybdenum regulate essential plant processes such as photosynthesis, respiration, enzyme activation, and nitrogen assimilation. Micronutrients are particularly involved in the reproductive phase of plant growth or stress tolerance mechanisms, determining the yield and quality of the harvested crop. However, micronutrient deficiency in soil is a common issue in agriculture, leading to the implementation of various fertilization strategies. 
Dr. Goñi spoke about how the use of ANE biostimulants has emerged as a sustainable tool to increase marketable yield in different crops. Brandon Bioscience's research validated how not all the ANEs are the same, providing different effects on micronutrient uptake in wheat and confirming the positive effects of Barramar on micronutrient use efficiency at genetic, biochemical, and phenotypical level. This study also investigated the effects of foliar treatment program with Barramar with on phenotypical and biochemical parameters of grapevine crop (cv. Cabernet Sauvignon). The study found that Barramar led to an accumulation of macro- and micronutrients in grapevine tissues (leaf and fruit) and improved crop quality markers related to a more efficient micronutrient use efficiency (e.g., higher soluble solids content and decreased concentration of titratable acidity). 
The study's results suggest that the use of ANE biostimulants, combined with good practices of fertiliser application, could be a feasible solution to provide consistent crop quality to growers while addressing the challenges of improving micronutrient use efficiency. This research is an excellent example of the valuable insights and knowledge-sharing opportunities that the New Ag International Annual conference provided to attendees last week. 
Like all New Ag Events, it was a great success and provides a platform for industry experts to share their latest research, insights, and technologies. We look forward to the New Ag Biostimulant World Congress in Milan at the end of the year. 
To speak to a member of our team about our research on micronutrient use efficiency, Contact Us.