Brandon Bioscience is looking forward to attending this year's Biostimulants World Congress in Milan at the end of the month.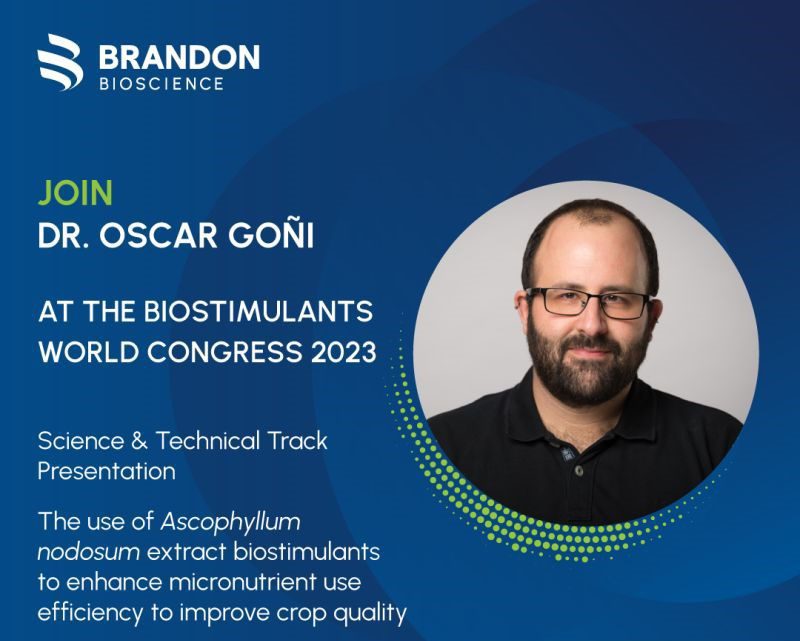 As part of our participation in the Congress, our Chief Technical Officer Dr. Oscar Goñi will present on Day 1 on Wednesday 29th November at 17:35. Dr. Goñi will be presenting under the Science and Technical Track at the World Congress. All scientific presentations are screened for quality and carefully selected by New Ag International's prestigious scientific committee.
He will feature in the session: Resource use efficiency and crop resilience in the face of climate change. Oscar's presentation is entitled "The use of Ascophyllum nodosum extracts biostimulants to enhance micronutrient use efficiency to improve crop quality" .

Some of the research that Oscar will discuss will include:
Microelements (iron, zinc, manganese, boron) play vital roles in plant life cycle, regulating processes like photosynthesis, respiration, enzyme activation, and transition to reproductive phase.
Micronutrient deficiency in soil is a prevalent agricultural problem, prompting growers to use various micronutrient fertilization strategies.
Current research investigates the effects of Ascophyllum nodosum extracts (ANEs) biostimulants on micronutrient use efficiency and crop quality traits.
Initial screening used winter wheat seedlings under different nutrient conditions, revealing significant variation in ANE efficacy at phenotypical, biochemical, and molecular levels.
The best performing ANE from the screening was tested in multi-year wine grape field trials (cv. Cabernet-Sauvignon).
ANE application via foliar spray led to nutrient accumulation in grapevine tissues and modulated berry quality markers associated with efficient micronutrient homeostasis.
This study suggests that specific ANE biostimulants, combined with proper fertilizer application practices, could offer a viable solution to enhance consistent crop quality for growers.
Would you like to meet Oscar or the wider Technical team at the Biostimulants World Congress? Click here to book in some time with us.